Brussels sprout is not a particularly popular vegetable and was voted Britain's most hated vegetable in 2002. This might be due to their lightly bitter taste.
I find that by browning the brussels sprouts help to reduce the bitter taste in this vegetable.
Surprisingly, the carb content in this vegetable is not consider low.
One sprout is 1 gram of total carb. So eat it sparingly. 
So here is how I prepare my family favourite brussels sprouts with home brine salted duck egg.
It is flavourful and no bitter taste.
This portion makes 2 servings
Ingredients:
10 fresh Brussels sprout, trim and cut into half, lengthwise
2 tablespoons lard
2 tablespoons butter
2 tablespoons shallot, chopped
1 tablespoons garlic, 
chopped
1 tablespoon pine nuts
1 tablespoon Goji berries (optional)
1 home brined salted egg, lightly mashed
¼ cup chicken stock
Pinch of salt and pepper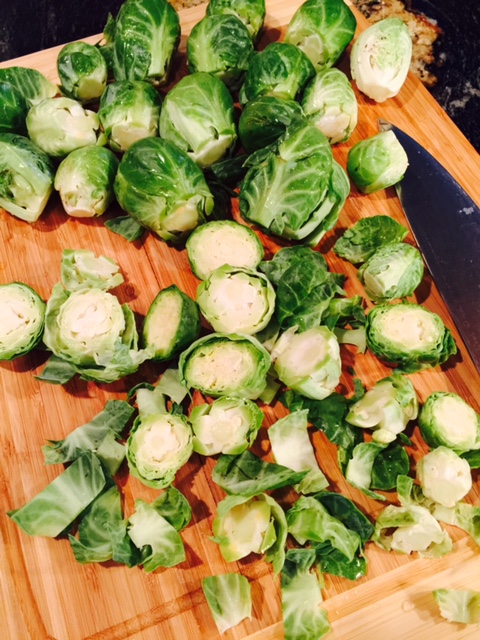 Here's how I cook the salted egg brussels sprouts…
Heat pan and melt 1 tablespoon butter with lard over moderate heat. Add brussels sprouts and stir to mix together with the oil.
Try to arrange the cut sides face down in the pan. Let it cook to golden brown, about 3-5 minutes.
Stir the brussels sprouts and let it brown for another 3 minutes, or until it is cooked but firm.
Remove brussels sprouts from pan and set aside.
In the same pan, add the remaining butter, shallot, garlic, pine nuts and stir to cook for a minute. Add goji berries (if using), and salted egg. Stir and cook for a minute.
Stir in chicken stock and simmer for 1 minute. Add pepper, and taste before adding salt.
Return browned brussels sprouts into the pan and stir to mix with the salted egg mixture.
Pour the brussels sprouts into a serving bowl and ready to serve.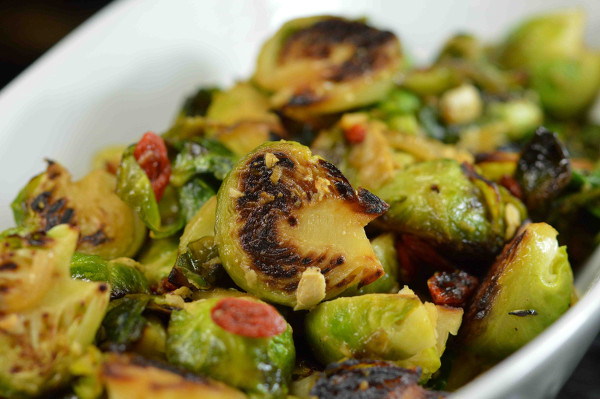 Each serving contains 16.6g total carb, 11.6g net carb, 13.7g protein and 38.8g fat (including the goji berries)
Each serving contains 13.6g total carb, 9.6g net carb, 12g protein and 38.8g fat (without the goji berries)
Share with us how you usually cook your brussels sprouts at the comment below!
If you like this post share it with your friends!