What could be better than having pizza with no guilt on a Super Bowl evening?!
🙂 Well, may be having it with beer wouldn't help much but cauliflower crust pizza itself is a low-carb meal.
Yes, cauliflower crust is very easy to make. You can even make it ahead of time and top on with any ingredients and bake it again before serving time.
Here is how I make my cauliflower pizza crust.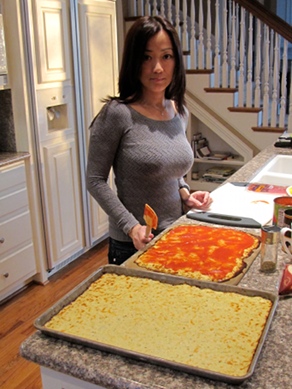 One head of cauliflower, cut into floret, and place it into a food processor and pulse it until it become cauliflower 'rice'. Do not over do it or it will become puree. You might want to do it in portion if you are using a small blender.
To make one pizza: Place 3 cups of riced cauliflower into a big bowl. Add 3 cups shredded mozzarella cheese, 3 beaten eggs, 2 tbsp melted butter, 1 ½ tsp oregano, 1 tsp fennel powder, 1 tbsp freshly chopped parsley, a pinch of garlic powder, a pinch of salt and pepper. Mix all ingredients together.
Preheat oven to 400F. Grease a baking pan with melted butter and press cauliflower mixture onto pan. Bake the crust for 30-40 min or until top of crust are lightly brown and edges are crispy.
Remove crust from oven. Spread a layer of tomato puree onto baked pizza crust. Sprinkle a handful of mozzarella cheese and top on with any ingredients you may like for your pizza! Be creative! This is where the fun starts.
You can have all the ingredients in separate small bowl and have your guest or your kids make their own pizza.
I made a cheese and prosciutto pizza, a ham and pineapple slices pizza, and a pork sausage with cheese pizza. They are all pretty good!
If you are using sausage please make sure it is pre-cooked on the pan over the stove before topping onto the pizza crust.
When you are done with 'decorating' your pizza with ingredients, return it to the oven and bake for another 5-10 min or until cheese is melted.
Remove from oven and sprinkle with lots of Parmesan cheese! Use a pizza cutter to cut it into pieces and serve it on a plate. Have fun!
For the complete recipe, click here.
Share this with your friends!