Our liking of iceberg wedge salad top with blue cheese dressing and crispy chopped bacon began during our recent trip to St. Augustin, Florida.
The chilled and crunchy texture of this salad was refreshing for a hot day. Drizzled with the restaurant house-made creamy blue cheese dressings, was very appetising.
My husband, Dan ordered this salad every meal together with the blackened fish. And he said, let's make this salad at home.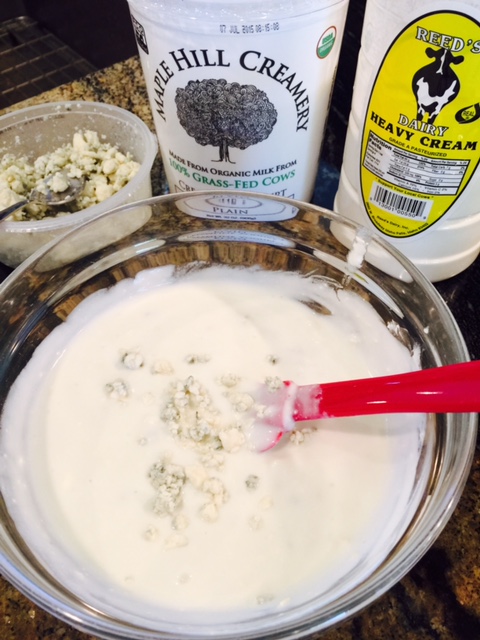 To prepare a nice and creamy blue cheese dressing, first, mash the blue cheese crumbles into the full fat Greek yogurt in a bowl.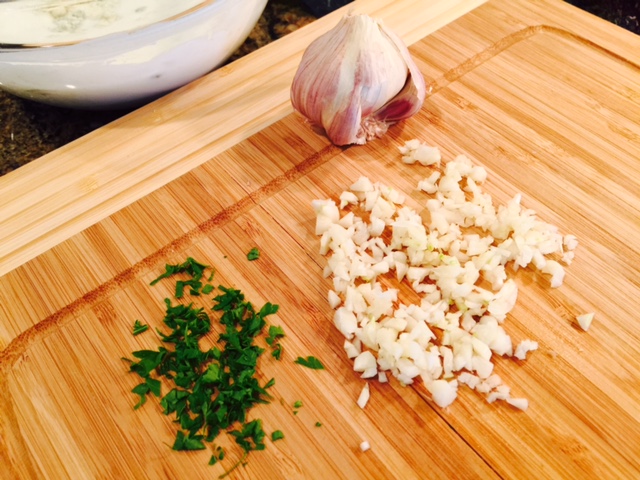 Next, minced a couple cloves of garlic, and fresh parsley, and mix into the blue cheese mixture. Season it with salt and pepper, and stir in apple cider vinegar to give a little tartness to the taste. Add 3 tablespoons, or more, of heavy whipping cream to adjust the consistency. A good consistency is the dressings would cascade down from the top of the iceberg wedge onto the plate, and not too liquify.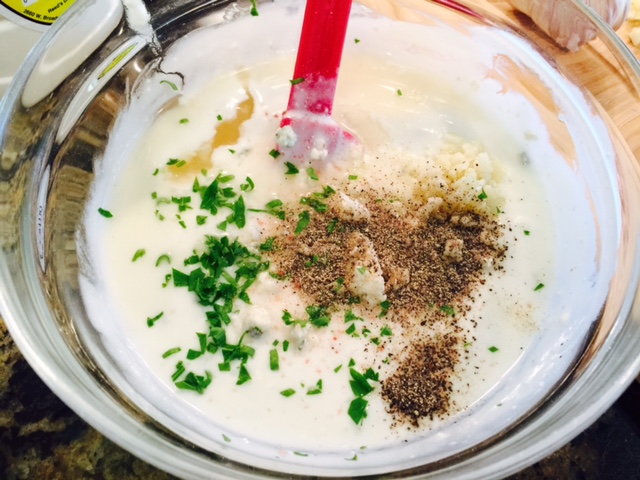 Pour the ready dressing into a container with lid and refrigerate for a several hours before serving to allow the flavour to blend.
To serve, cut a small whole iceberg lettuce into half, and than into quarters. Place one quarter onto a plate and scoop a few tablespoons of blue cheese dressing onto the lettuce wedge. Sprinkle thinly sliced red onion and chopped crispy bacon onto the dressings.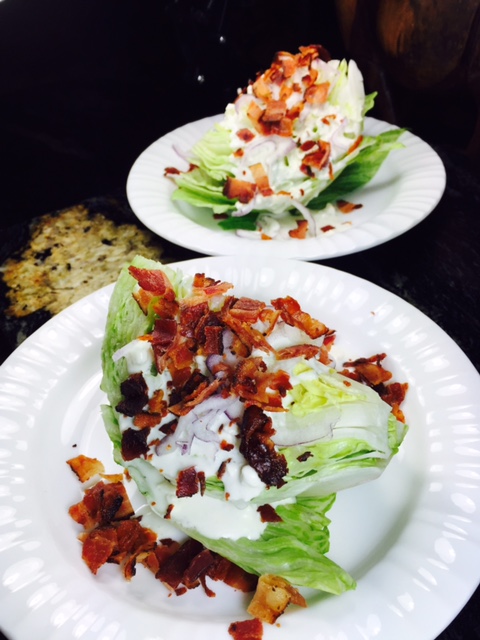 Here is the recipe you may try:

Iceberg wedge salad with blue cheese dressing
Recipe type:
Low carb salad
Ingredients
Ingredients for dressings (makes about 2 cups/8servings):
1 cup greek yogurt (or sour cream)
½ cup (4 oz) blue cheese, crumbled
1 tablespoon apple cider vinegar
3 tablespoons heavy cream
1 teaspoon minced garlic
1 teaspoon minced fresh parsley
Pinch of pink salt
¼ teaspoon freshly ground black pepper
Ingredients for salad:
1 medium head (6" dia) iceberg lettuce, cored and cut into 4 wedges
¼ cup red onion, finely julienne
1 cup chopped crispy bacon bits (4 slices)
Preparation
To make dressings: in a mixing bowl, mash yogurt with blue cheese leaving some crumbles pieces in it. Add all ingredients and stirring well to combine. Taste to adjust the seasoning. Add more vinegar if necessary. Pour into a container with lid and refrigerate for a several hours before serving to allow flavors to blend.
Place one or two wedge of iceberg lettuce on a plate, drizzle with dressing and sprinkle with bacon bits and nuts, if using.
Two cups of dressings contains 14.2g total carb, 13.9g net carb, 23.6g protein and 58g fat.
Each 1/4 cup serving of dressings only, contains 1.8g total carb, 1.7g net carb, 3g protein and 7.3g fat.
Each serving of 1/4 wedge iceberg contains 4 g total carb, 2.3 g net carb, 1.2 g protein and 0.2 g fat.
Note: Store the extra dressings in a air tight container and keep it in the refrigerator for up to 7 days.
Share this with your friends!