Homemade granola is so delicious. The aroma from the oven during baking is unbelievably awesome
I started making granola at home because most commercial breakfast granola or cereal is very high carb, high in sugar content and trans fat. Baking granola at home allows me to adjust the ingredients for the amount of carbs in each serving.
I also use it to sprinkle on salad or appetizers. I can add a little granola on top of a grilled fish dinner to give it crunch. Store the granola in an airtight container and keep it in the refrigerator. It will keep for up to one month.

Gourmet home-made granola
Recipe type:
Low carb breakfast
Prep time:
Cook time:
Total time:
Serves:
24 servings of ½ cup
Ingredients
2 cups raw almonds, coarsely chopped
2 cup raw pecans, coarsely chopped
½ cup coconut flake, unsweetened
½ cup flax seed
½ cup black sesame seeds
½ cup white sesame seeds
¾ cup pumpkin seeds
1 teaspoon ground cinnamon
½ teaspoon dried ground ginger
½ teaspoon sea salt
1 tablespoon almond oil (or walnut oil)
2 tablespoons olive oil
Preparation
Preheat oven to 300F (150C). In a very large bowl, mix together the almonds, pecans, coconut flake, flax seed, black and white sesame seeds, pumpkin seeds, cinnamon and ginger.
In a small saucepan, warm and mix the salt and both oils together. Mix the oil mixture into the dry ingredients until thoroughly dispersed, then spread the mixture evenly on two baking trays lined with foil.
Bake the granola for about total of 40 minutes, stirring every ten minutes, until the granola is golden brown. Alternate the trays on the lower and middle rack in the oven every ten minutes after stirring the granola. Remove the tray from the oven when ready and let it cool completely. Store it in an airtight container and keep it in the refrigerator.
Each serving of ½ cup contains 7.7g total carb, 2.7g net carb, 6 g protein and 28 g fat.
A serving ½ cup of granola together with 2 tablespoons Greek yogurt and ½ cup of half and half, contains 14g total carb, 9g net carbs, 10.6g protein and 44.7 g fat.
Store the cooled granola in a large airtight container and it will last for several weeks in the refrigerator.
Enjoy!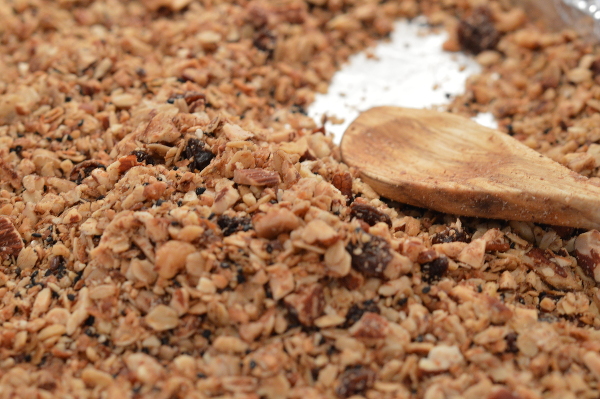 Share this with your friends!