This food-tasting trip to San Francisco is certainly so much more memorable because of the friendship that I found.
For over a year, I have been in this food group on Facebook with folks from the Bay Area who love food.
When I announced that I would be visiting San Francisco for food tasting, this group of Facebook friends were enthusiastically helpful far beyond my expectations. Especially Dabin Lo and Scott Nakamura, who helped  suggest restaurant places and organize a get-together dim sum party. Close to 30 people turned up, and we had a blast!
Food, friendship and love (food and people) are the best combination to fully enjoy a wonderful meal. And the power of multi media has again proved to bring us together, friendship flourished from enjoying good food together.
During this short 5 days trip, I visited a total of 17 restaurants. Most were very good and some were extraordinary. The few choices I will be sharing here are based on my personal preference for authenticity, freshness, texture, aroma, flavor, and also support my low carb eating style.
Crab fix ~ Crustacean

My first delicious dinner began in Crustacean Restaurant at 1475 Polk Street. The menu has a variety of selections and I do think we had the best pick. All I wanted for this trip was to enjoy a whole Dungeness crab. And so I did.
I ordered their most popular garlic and pepper Dungeness crab and hubby ordered the soy ginger Seabass, which is also my second choice.
Both the orders were delicious! The crab was coated with a good amount of garlic and pepper, and the meat was firm and sweet. I love the garlicky layer of oil at the bottom of the plate which I can dip the crabmeat into. I ate almost the whole crab with no sides needed.
The soy ginger Seabass is also my favorite. The fish has a buttery texture and it melts in the mouth. As simply as it is being prepared, a good piece of fish needs only the basic spice to enhance the flavor.
I would go to Crustacean again each time I visit San Francisco. Or another city that might have the same restaurant.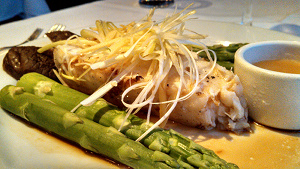 Authentic Asian food search
Our second wonderful dinner was in a small restaurant that specialized in simple home-cooked meals. The flavor and the style of cooking feel like dining with a Cantonese family in the Asia. If you are looking for basic Cantonese 'home-cooked' food, this is the place to go.
Chopstick Restaurant, 328, 14th Street in downtown Oakland, offers a wide selection of dishes from appetizer, seafood, and varieties of meat, poultry and vegetables. A pick of 3 dishes with a soup is only $19.99. Not only the price is good, the food is even better.
Beef with broccoli, braised meat ball on bok choy, claypot pork belly with preserved vegetables, crispy chicken wings, deep fried squid (be careful of the black ink inside the cavity), prawn omelette, oysters with black bean sauce and steamed pork patty with salted fish.
The oysters were so good that we had three orders to share among twelve of us. The restaurant also allows their customers to bring their own bottle without corkage fee. But do bring your own wine glasses too if you do not want to drink it from a teacup.
Thanks to our sommelier, Lest who brought a selection of wine to pair with the food we ordered.
Twelve people and more than a dozen food selections, and we enjoyed this sumptuous meal for total of $12 each person including tips. Not only for the price, for the food it's a great place to go!
One of the best Dim Sum
The other goal I made sure to achieve during this trip was to have a good Dim Sum lunch. Thanks to my Facebook friend's recommendation, Shai Lai Seafood Restaurant at 6255 Geary Blvd, is the place. Dabin Lo created an event for Dim Sum on Facebook and close to 30 people turned up. We had a blast!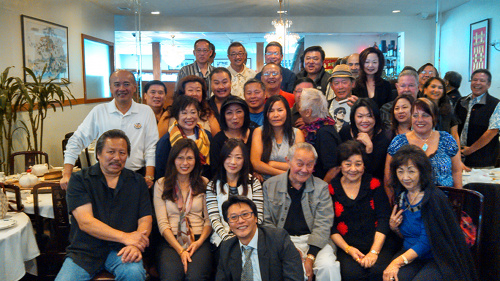 This Dim Sum is the authentic Cantonese style. The dumplings are freshly made and steamed by the Cantonese-speaking chef. Just after one bite of the pork dumpling, I couldn't wait to get to the other selections on the table. It was very delicious!
Even for my low carb eating style, there was so much selection of Dim Sum to choose from. I especially enjoyed the dumplings, the soup and the vegetable selections.
I wish I had an extra day on this trip that I could go back again one more time.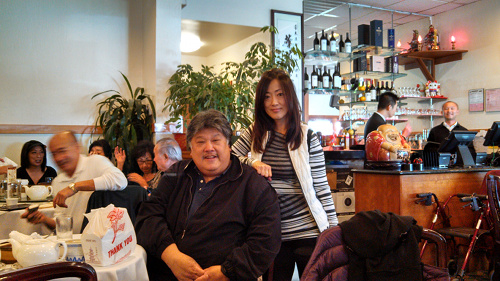 Thanks to Dabin Lo for getting all the foodie buddies together in this rare occasion!
Food tasting in Chinatown
During the first day I arrived in San Francisco, I was so hungry at noon. I popped into the first Chinese dim sum restaurant I saw in Chinatown. The food was not impressive. I wished I had done some research ahead of time.
There are so many restaurants in Chinatown, but not every one is good for sure.
Thanks to my Facebook foodie friend, Dabin Lo, who organized this food tasting tour around Chinatown, I now have scoped out the best of each specialty food each restaurant offers.
We started at 10:30am from the heart of Chinatown. The first restaurant we visited specializes in Hong Kong style roast meat. Kam Po (H.K.) at the corner of Powell Street and Broadway. I wish I had eaten there the first day instead of going to the wrong dim sum place. Oh well.
This little restaurant's appearance is nothing attractive, but forget about the look, the roast duck and crispy roast meat are to kill for. It is authentically Hong Kong roast meat.
The roast duck was tender, juicy with a layer of thin and flavorful skin. And the roasted pork was also very well roasted with a layer of crispy skin, with soft and tender meat. As usual, these are served with steamed rice but how could one even think of filling the tummy with rice having this delicious meat around?
The wonder of eating low carb is, forget about the rice and eat these nutritious delicious meats. These are the best foods to provide my fat intake need for the day!
I begin to think I can forget about making the trip to Hong Kong for the roast meat that they are famous for. San Francisco's Chinatown is a little Hong Kong by itself.
The second roast meat restaurant confirmed my thoughts on this. Yee's Restaurant at 1131 Grant Avenue, in my opinion, has the best Hong Kong roasted goose.
I still remember the flavor of the roasted goose I ate in Hong Kong more than a decade ago. During that trip I fell in love with roasted goose meat. I had to make sure I bought a to-go box packed with the roasted goose meat before I left for the airport. In that way I could enjoy the goose during the flight instead of the boring airplane food.
I remember when I open up the box to enjoy my roast goose in flight; the aroma of the roasted goose fumes filled the plane. Many people in that flight were looking with eyes of envy and giving me a smile, and nodding in agreement with what I had got myself.
My memory of Hong Kong was all about the roasted goose. I always wanted to re-visit Hong Kong again just for the roasted goose.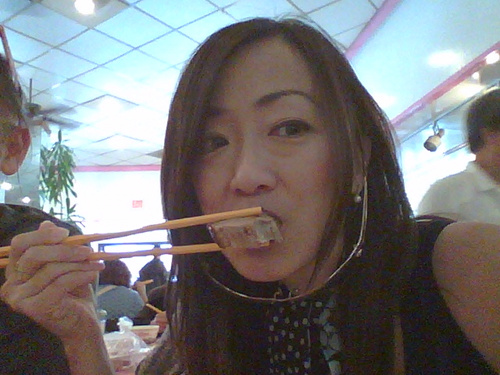 After the meal, I asked the lady proprietor Ms Peng about how can I roast a good goose like they did. She was kind to share with me a few tips that I am going to try on a duck in my kitchen.
My dream of eating this delicious Hong Kong roast goose again has been completed, in San Francisco's Chinatown.
The next place that reminds me of my days in Singapore is a bakery. Yes, it's a bakery. That is not in my low carb food selection but since it is the best of all in Chinatown, no harm checking it out.
Golden Gate Bakery at 1029 Grant Avenue, didn't disappoint me.  Standing outside the store I was reluctant to buy their famous egg tart. People streamed out of the store with boxes of a dozen egg tarts in their hand. And my friends also bought their boxes of egg tarts. Dabin Lo urged me to just buy one. So I obliged. I'm glad I did because at least I have tasted it. With just one bite of the egg tart, it reminded me of the most popular Tong Heng egg tart that I like in Singapore.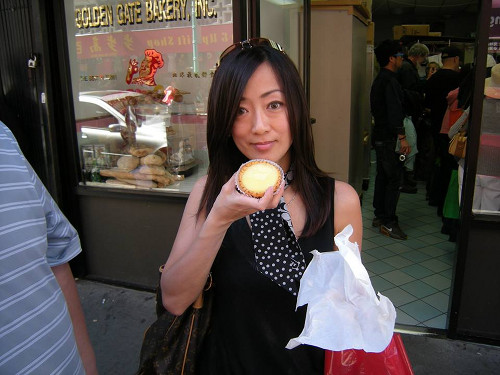 This egg tart is not too sweet, the way I like it. It also tasted very eggy and not starchy. Which means it is made of mainly egg in the fillings. The crust was light and very flaky. The overall experience was very pleasant and I can imagine having one for a dessert after a meal once in a while.
Here is my one egg tart, still warm, fresh from the oven. I took two bites and guess who ate the rest?  The photographer.
The other place worth mentioning is a popular wonton house, Hon's Wonton House at 648 Kearny St.
Wonton is not a recommended low carb meal because of its wrapper. But this wonton wrapper is very thin and silky, though I would like it to have more meat in the wonton. What I usually do at home is to wrap as much meat as I can get in one piece of wonton wrapper.
This is worth having a taste if you are curious enough to find out how a traditional Teochew wonton soup tastes. Teochew style wonton soup flavor is unique because the little dried white fish (Ikan bilis) is one of the ingredient used to made the broth. How do I know? Because both my grandparents are Teochew and I grew up in a Teochew family. So I'm considered a pure bred Teochew girl. 😀
Would I go to that restaurant again? Maybe, only if I really want another bite of the wonton soup, because this restaurant serves mainly rice and noodles. It's a place to go for a taste of the soup but not for a full meal.
Capitol Restaurant at 839 Clay Street is the last restaurant we visited for the day.
The one specialty from this restaurant is the salt and pepper crispy chicken wings. The skin on the wings was thin and crispy and very flavourful with just the salt and pepper taste that comes with a hint of spiciness from the green pepper that's stirred in during the cooking process.
I am sure some of the other dishes on the menu will be worth trying the next time I visit again. We are all food-out by 4 pm.
That was the food tasting in Chinatown that day.
Japanese food in Alameda
The last lunch of this trip was in Kamakura Japanese Restaurant at 2549 Santa Clara in Alameda. This is the best Japanese restaurant in Alameda, as all the awards they have displayed on the wall along the bar seats say. This is an unpretentious restaurant with traditional Japanese chefs – as authentic as you want.
How to know if the Japanese restaurant knows what they are doing? Order the 2 traditional dishes that Japanese believe have to meet a certain standard to be considered good. And if they can make these 2 dishes very well, the rest should be good too. Tempura and Chawan Mushi (steamed egg bowl), are the 2 that a good Japanese restaurant must pass with flying colors to be considered authentic.
My husband and I ordered one of those that have to measure up if this restaurant is really authentic. We had their Ebi (prawn) and Yasai (vegetable) tempura. The batter was very light and flaky, and was thinly coated. That's what I was looking for and they did it pretty well.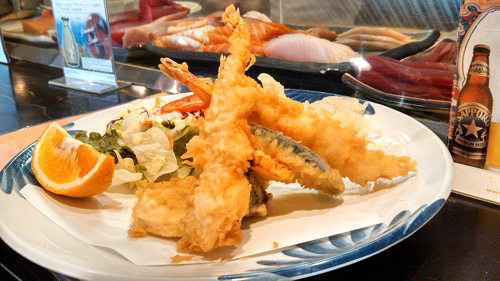 We also had the Agedashi tofu and the miso soup. They are all very delicious and reminded me of our recent trip to Japan. Very authentic flavour!
I would re-visit the restaurant for the sashimi the next time!
I belief there are many good restaurants in the Bay Area that I haven't gotten to. If you have any favorites please share them with me. I am certainly looking forward to visiting San Francisco again to continue my part 2 food tasting exploration, sometime soon I hope.
Share this with your friends!