"The turkey is a Noble Bird." – Benjamin Franklin
Roasting a turkey requires some preparation work. The 2 important steps is brining and airing a turkey. It would normally require 36 hour for preparation before roasting.
Do plan ahead especially if you buy a frozen turkey, which normally needs about 2 days of thawing in the refrigerator.
This will be a long post as I will show you step by step to prepare a delicious turkey.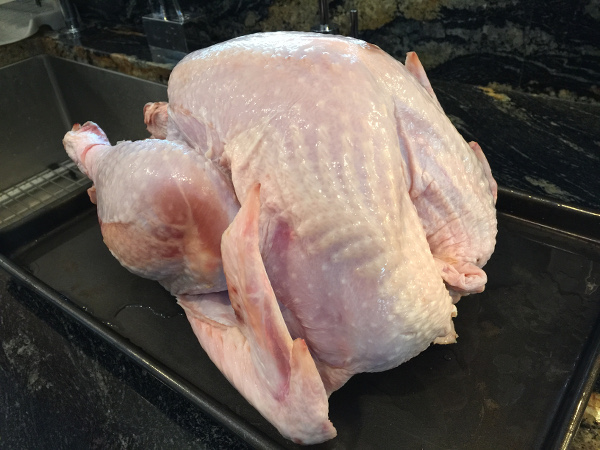 This 16 pounds turkey serves about 12 portions
Brining time: 24 hours
Here is how I prepare my turkey.
First, clean the turkey thoroughly and prepare the brine…
Brine ingredients for the Turkey:
16 lbs (7kg) turkey, thawed
2 gallons (7.5 liters) ice cold water in a big container (make sure is enough to cover the whole turkey)
1 ½ cups salt (about ¾ cup for 1 gallon/3.75L water)
½ cup shallot, chopped
2 bay leaves
5 cloves garlic, sliced
1 bouquet of fresh parsley, rosemary and thyme, tied with twine
Preparation:
Place ½ gallon of water from the 2 gallon into a pot and bring to boil, add all spices into boiling water for 3 minutes. Stir to dissolve the salt. Let it cool to room temperature.
Pour cooled herb water back into the ice-cold water in the container. Stir to mix.
Lower the turkey into the herb water. Place the brining turkey in the refrigerator for at least 24 hours. This allows the spice to fume throughout the turkey meat.
Note: if your refrigerator does not have enough space to house the turkey with the container, use an ice cooler. Add 2 gallon Ziploc bags filled with ice cube into the water with the turkey to keep it cool.
My turkey fit in the cooler just perfectly.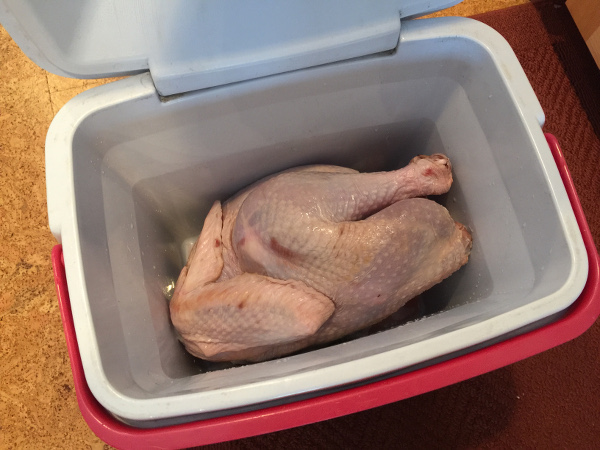 After 24 hours;
Remove turkey out of the brine and plunge it into a new tub of clean cold water to give the whole turkey a nice clean cold bath inside out. Making sure all the herbs stuck on turkey are removed.
Drain turkey and pat dry with paper towel. Sit turkey breast side up on the roasting grill with tray below, and place it inside the refrigerator for at least 8 hours uncovered. This would help the skin to be thin and crispy when roast.
After 8 hours of airing the turkey you are ready to roast.
Let's prepare the turkey stuffing…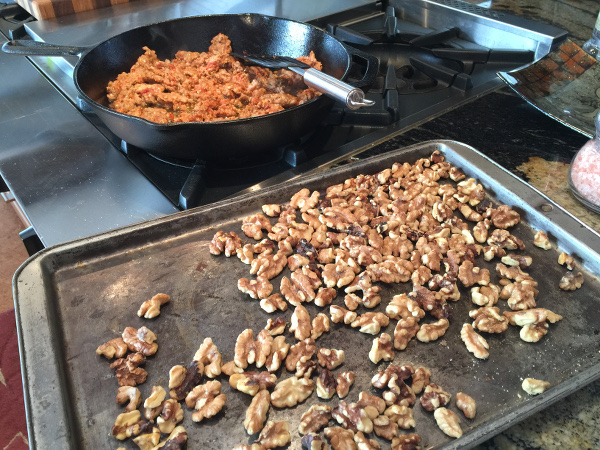 Serves 12
Ingredients for stuffing:
½ cup Italian pancetta, chopped
1 pound Italian spicy sausage
1 tablespoon butter
½ cup red onion, chopped
3 almond psyllium bun, cut into cube (optional)
2 teaspoons ground sage
1 cup roasted walnut
1 tablespoon fresh thyme
3 tablespoons rosemary
¾ cup Italian parsley, chopped
Pinch of pepper to taste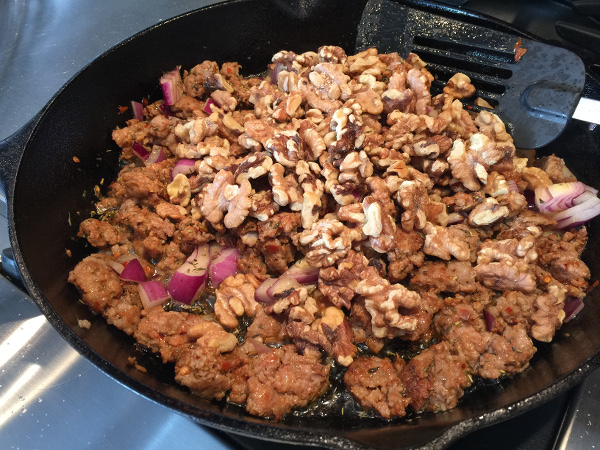 Preparation for stuffing:
Heat a pan and cook chopped pancetta till crispy.
Cook the Italian sausage with the pancetta grease in the pan. While cooking use the spatula to cut up sausage into small pieces. Set aside in another bowl.
With the remaining grease in pan, melt butter and add onion. Sauté onion till soft and fragrant. Add bread cubes into pan and continue to stir and mix well until bread has adsorbed all the grease and lightly browned.
Add walnut, sage, thyme, rosemary and parsley. Add pepper to taste. Return cooked sausage into pan and mix together. Set aside.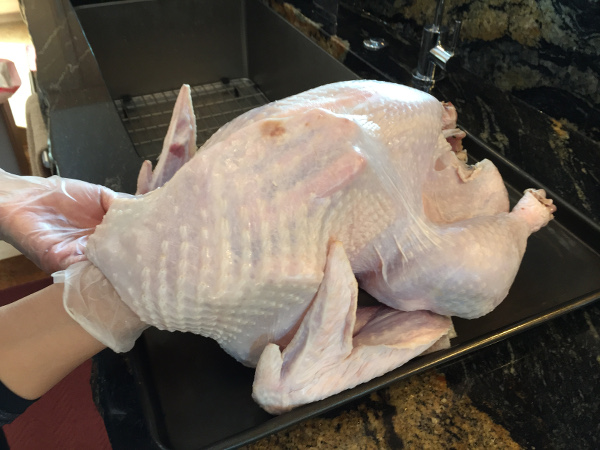 Get ready to roast the turkey:
Set your oven to 350F (177C), allowing it to come to full temperature while you prepare the bird and the seasoning rub.
Turkey herb and rub ingredients:
3 cloves garlic, finely chopped
1 tablespoon black pepper, ground
2 tablespoons parsley
2 tablespoons rosemary
2 tablespoons thyme
2 teaspoons salt
3 tablespoons bacon grease, melted
2 tablespoons unsalted butter, melted
Kitchen twine
Syringe
½ cup regular chicken stock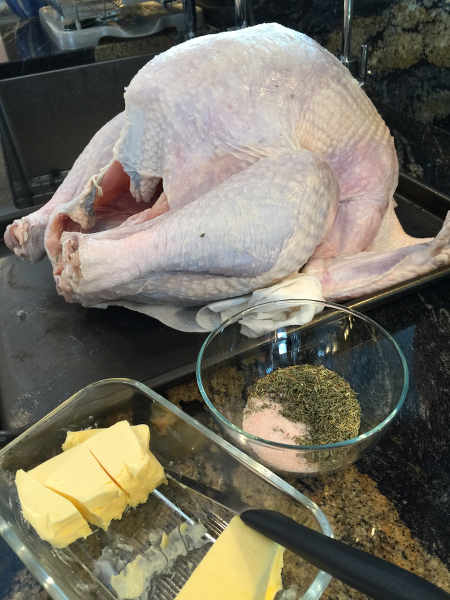 Preparation before roasting;
Mix together garlic, black pepper, parsley, rosemary, thyme and salt in a small bowl.
Remove turkey from refrigerator and dry it thoroughly inside out with paper towel.
Loosen the turkey skin around the breast area starting from the neck by inserting your fingers in between the skin and the breast meat, working slowly to separate the skin.
Rub herb mixture inside of carcass and in between the skin. Retain a small amount to sprinkle on the turkey skin.
Stuff the turkey carcass with prepared turkey stuffing.
Mix the melted bacon grease and butter in a small bowl. Drizzle over the turkey and brush it all over evenly. Sprinkle remaining mix herb onto the skin..
Truss the turkey with twine; tie the legs close to the body, this help to compact the turkey to allow cooking evenly.
Place the turkey onto a roasting pan, breast face up. If your roasting pan do not have a lid, use foil to make a tent to cover the whole turkey to prevent browning the skin too early. Place turkey in oven and set timer for 3 ½ hour.
After one hour of roasting, use a syringe and inject regular chicken stock into turkey breast to further moisten the meat. Repeat the same at 2nd hour and at 3rd hour.
After 3 ½ hour, remove turkey from oven, check the turkey temperature by inserting a thermometer into the thickest part of the breast meat in between the inside leg of the turkey, making sure not to touch the bone, and look for 150F (65C). It may takes up to 5 minutes for the temperature to rise as the turkey sitting. If the temperature is correct, change your oven mode to broiler, and return the turkey to the oven for 10 minutes to brown up the skin. Watch closely to prevent burning the skin.
When the turkey skin is golden brown, remove it from the oven and lift the turkey to rest on a baking sheet. Let it sit 20 minutes for the juice to settle into the meat. Cover lightly with loose foil above the turkey while it sitting out.
While waiting you can prepare the turkey gravy from the drippings.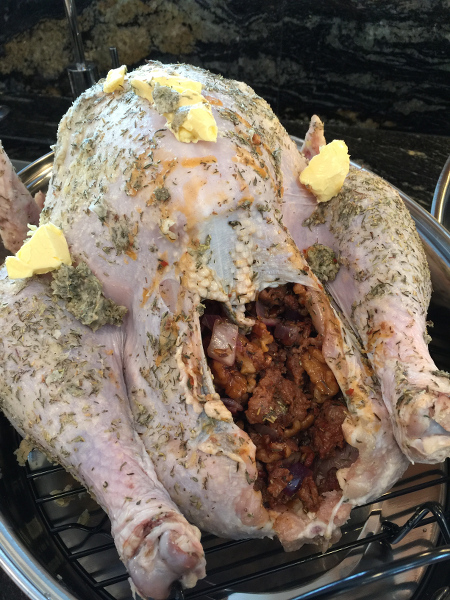 I like adding more butter on the turkey.
You may choose to stuff or not stuff the turkey. Baking time as follow depending on your type of oven. Always check turkey temperature 30 minutes before recommended time.
For stuffed turkey;
Size — cooking time
8 to 12 pounds — 3 to 3½ hours
12 to 14 pounds — 3½ to 4 hours
14 to 18 pounds — 4 to 4¼ hours
18 to 20 pounds — 4¼ to 4¾ hours
20 to 24 pounds — 4¾ to 5¼ hours
For non stuffed turkeys,
Size — cooking time
4 to 8 pounds (breast) — 1½ to 3¼ hours
8 to 12 pounds — 2¾ to 3 hours
12 to 14 pounds — 3 to 3¾ hours
14 to 18 pounds — 3¾ to 4¼ hours
18 to 20 pounds — 4¼ to 4½ hours
20 to 24 pounds — 4½ to 5 hours
Remedy tip: In any event if any part of the meat is not fully cook to desire, just place it into the microwave for 1 minute.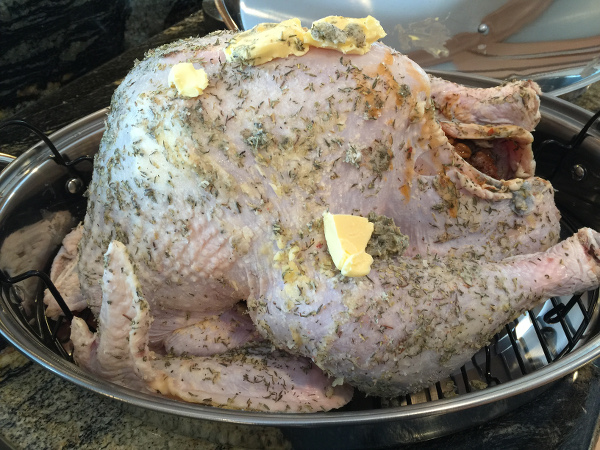 All ready to go!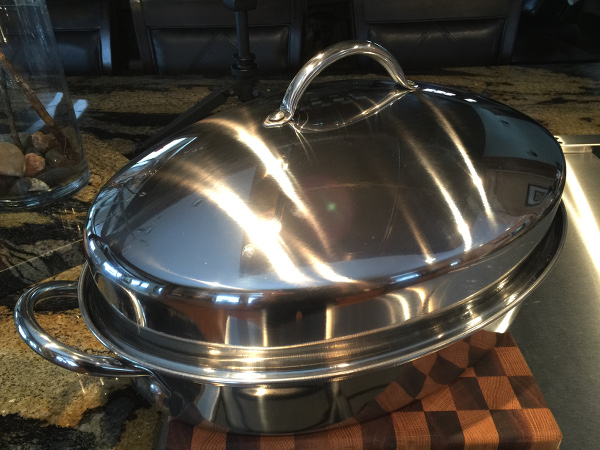 My turkey roaster has a tight lid to trap the moisture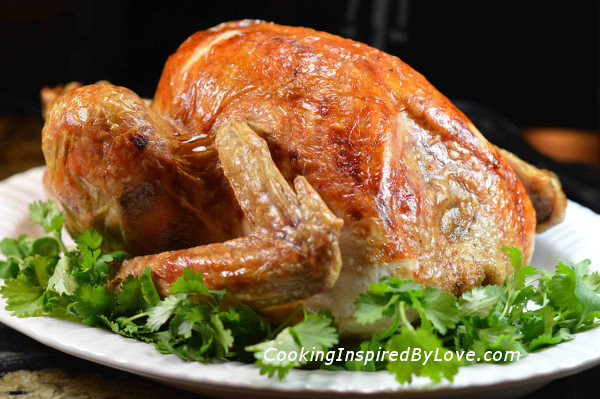 While the Turkey is sitting out let's make some turkey gravy!
Ingredients for turkey gravy:
Turkey drippings in pan
1 cup chicken broth (void if pan has enough moisture)
1 stick unsalted cold butter, sliced
1 tablespoon sassafras powder, or sour cream, or cream cheese (optional)
Ground pepper
Preparation for turkey gravy:
After remove turkey from pan and set it aside to rest, place the roasting pan with turkey drippings on the stovetop over low heat. If the turkey dripping has not much moisture, add chicken stock and slowly scrape all the brown bits from the bottom of the pan with a spatula. Stir and make sure drippings are dissolve into broth.
Keep the heat very low, add cold butter into gravy to melt slowly. This will give the gravy a creamy texture. Stir in sassafras powder if using, to lightly thicken the gravy (optional). Continue whisking till reach the desire consistency. Add pinch of ground pepper to taste.
I like a thin and creamy consistency for the gravy.
Alternatively, you can add 1 tablespoon of sour cream or cream cheese to cream up the gravy.
Time to carve the turkey!
Starting with slicing around the joint at the drums, remove the drums. Cut around the thighs, remove the meat around the thighs and place them onto a platter. And than work your way around slicing the breast meat.
Remember, do Not discard the bones! Save them to make a good turkey stock we'll talk about it below.
Drizzle some turkey gravy onto the turkey platter, garnish with parsley before serving.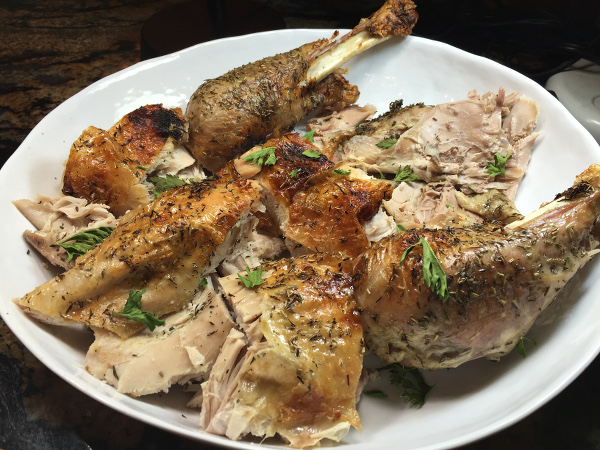 This Thanksgiving I served this turkey with an Easy Cranberry Sauce, Cheese Baked Mashed Cauliflower, and Salted Egg Brussels Sprout. And dessert was Creamy Custard Pie. Check out the recipes later!
Macro nutrients info:
Each serving of 3 ounces turkey meat with skin contains approx. 0 g total carb, 0 g net carb, 24 g protein and 9 g fat. 
Each serving of stuffing contain approx. 6 g total carb, 3.5 g net carb, 9.8 g protein and 16.8 g fat. 
This turkey gravy contains mainly fat depending on how much drippings you acquire from roasting and how much you eat.
Wait, we are not done yet! 
Turkey soup!
I consider this the highlight of roasting a turkey.
Keep all the bones after carving the turkey. It makes a wonderful delicious stock for a tasty turkey soup the next day.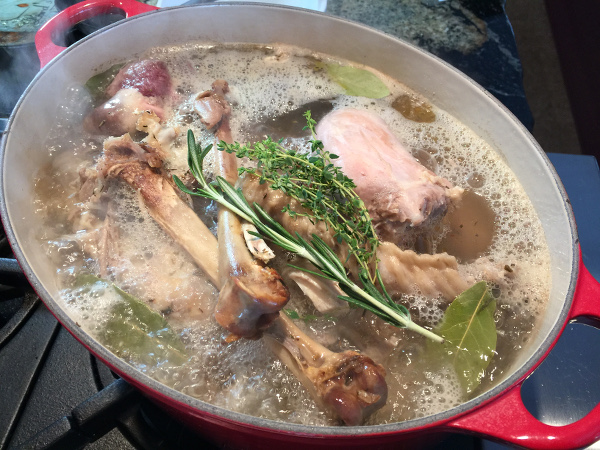 Here is how I prepare the turkey stock…
Turkey stock ingredients:
Turkey bones and giblets etc.
3 bay leaves
2 sprigs of fresh thyme
1 stalk of fresh rosemary
Preparation:
To make turkey broth; Use a large pot, place all the turkey bones, wings, turkey neck and giblets that comes with it into the pot. Fill with hot water to cover 2 inches higher than the level of all the bones. Bring water to boil. Skimp off the scum if any.
Add herbs and let it simmer in low heat for at least 60 minutes. When broth is ready, let it cool and strain broth into another medium pot. Discard bones.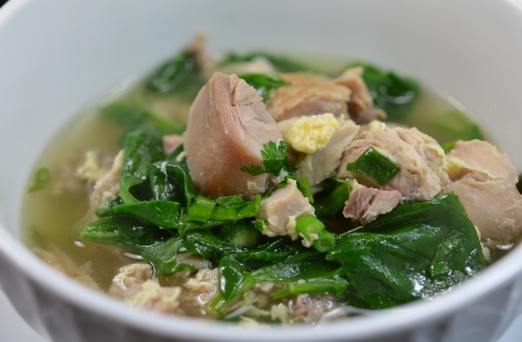 Here is how I prepare the turkey soup…
Turkey soup ingredients for 1 serving:
1 cup turkey broth
1 ounce (28g) turkey meat, bite size
1 egg, beaten
2 handful baby spinach
1 teaspoon roasted sesame oil
Pinch of pepper and salt to taste
1 teaspoon cilantro
1 teapoon spring onion, chopped
Preparation:
To make turkey soup; bring 1 cup of broth to boil, add turkey meat, drizzle beaten egg into soup. Add baby spinach, roasted sesame oil, pinch of pepper and salt to taste. Garnish with chopped cilantro and spring onion.
A delicious turkey soup is ready!
Each serving of turkey soup contain approx. 3.7 g total carb, 1.6 g net carb, 20 g protein and 13 g fat.
Share with us how you prep and roast your turkey at the comment below!
If you like this post share it with your friends!