Eating low carb does not mean we have to deprive from special treats like this one. This homemade low carb crepe is a new big hit for my family.
Peach crepes
Recipe type:
Low carb snack
Prep time:
Cook time:
Total time:
Ingredients
For crepe:
4 eggs
½ cup ricotta cheese
1 teaspoon vanilla extract
1 teaspoon Xylitol sweetener
A pinch of salt
1 tablespoon butter
For filling:
½ cup heavy whipping cream
½ teaspoon vanilla extract
½ teaspoon Xylitol sweetener
1 large fresh ripped peach, sliced into 20 thin slices with skin on
Preparation
To prepare crepe; blend with an electric blender egg till frothy. Add cheese, vanilla extract, Xylitol and salt, continue to whisk till all ingredients are blended well.
Brush a heated non–stick pan with melted butter, add about 4-5 tablespoons of egg mixture. Swirl egg mixture around pan and let it cook in very low heat for 1 minute or till edge turn lightly brown. Flip crepe over and cook for another minute. When crepe is ready, set it on a chopping board to cool. Continue to make about 5-6 crepes with all the mixture.
To prepare filling; in a bowl, whisk heavy cream, vanilla extract and Xylitol with an electric whisk till stiff peak.
To wrap; lay a crepe on a flat board. Spread a scoop of heavy whipped cream onto center of crepe, top with 3 slices of peach. Bring one end of the crepe to the center and roll it up.
Decorate crepe roll by spreading a spoonful of whipped cream on the roll and a top with a slice of peach. Ready to serve.
Each serving contains 6g net carbs, 11g protein and 26g fat.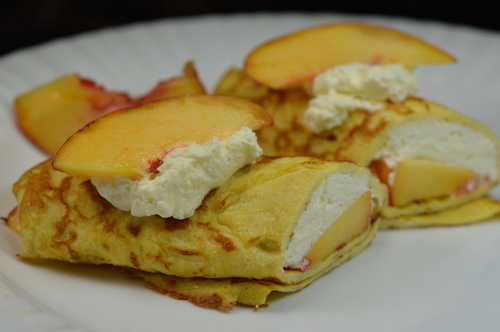 Share this with your friends!