Today is one of those days that I did not plan dinner ahead of time. Usually I plan our meals 3 days ahead, but my brain has been overfilled lately. Since I decided to write a book, all my thoughts have been on finding the right title and the direction of the book.
At 5pm, I thought I should go and get some fish for dinner. Strolling into Pearl Street Market, there were fresh fillets of salmon, halibut, swordfish and tuna. Then I recalled that we just had salmon and halibut 2 days ago.
Then I thought, what about chicken? No, we just had chicken for dinner last night.
Finally I set my eyes on the fresh jumbo prawns. I thought to myself: what am I going to do with it? I have no idea but I'll just buy a pound of prawns and decide later.
As I started to peel off the prawn shells and devein them, I thought about cooking it with butter. Anything would turn out well with butter wouldn't it? 😀  I chopped some sweet onion and garlic to go with the prawns.
First I melted the butter in the pan, added the onion and garlic and sautéd them lightly. With medium high heat, I added the jumbo prawns making sure they were lying at the bottom of the pan with the onion pushed to the sides. I let the prawns sear for a couple of minutes and turned them over. Then I thought it would be nice to add some cashew nuts. I realized there weren't any cashew nuts in the pantry but some Marcona almonds should work. I grabbed a handful and added it into the pan.
What about adding some color? So I added a pinch of paprika and turmeric powder. The prawns began to look vibrant and the aroma filled the kitchen.
What about some salt? Not yet. I better taste it before adding any because prawns are naturally salty, the butter and nuts are also salted. So I tasted it and decided it needed some soy sauce and a dash of chicken broth to add moisture.
When the prawns were cooked and just before dishing it up, I chopped a handful of fresh parsley and stirred it in. Dinner was ready! It took me less than 30 minutes to prepare and cook it.
This was one of those meals where I would just combine what comes to mind, taste during the process, and add the ingredients as I cook. And fortunately, it usually turns out very tasty. I served it with some garden crisp lettuce, tomato and avocado salad.
It was another wonderful dinner with a glass of red wine. My husband and I ate the whole pound of prawns and no leftovers. It was delicious!
Marcona butter jumbo prawns
Recipe type:
Low carb seafood
Prep time:
Cook time:
Total time:
Ingredients
3 tablespoons salted butter
½ cup sweet onion, cut into bite size
2 tablespoons garlic, finely chopped
1 pound (454g) fresh jumbo prawn, shelled and deveined
½ cup salted roasted Marcona almonds
½ teaspoon paprika
Pinch of turmeric powder
1 teaspoon soy sauce
1 tablespoon chicken broth
¼ cup fresh parsley, chopped
Preparation
Heat pan and melt butter. Add onion and garlic and sauté for 1 minute.
Push the onion to the side of the pan and add the prawns onto the center. Let the prawns sear for a couple of minutes. Turn the prawns over and sear the other side for a couple of minutes.
Add Marcona almonds, paprika, turmeric, soy sauce and chicken broth. Stir to mix well until prawns are cooked. Add parsley and stir to mix. Ready to serve.
Each serving contains 5.5g net carbs, 23g protein and 27g fat.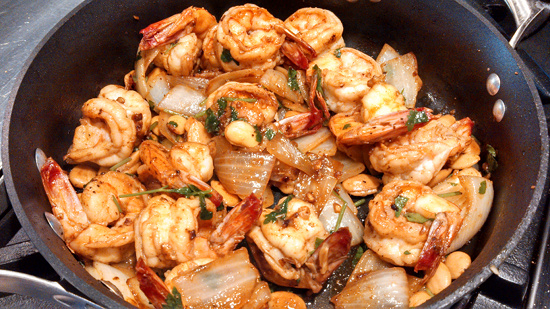 Share this with your friends!