This year Chinese Lunar New Year falls on the 23rd of January this year. And is the year of the Dragon!
Despite the inconvenient that our home is still undergoing remodeling, we still went ahead to have a wonderful celebration on Lunar New Year eve with 20 other friends and family. And 'Yusheng' was the highlight of the evening.
Yusheng, a Teochew-style raw fish salad, is also known as Prosperity Toss or Lo Hei (Cantonese) is a popular salad for the Chinese New Year.  It symbolizes abundance, prosperity and vigor.
While original versions are thought to have existed in China, the contemporary version is created and popularized in Singapore during the 1960s amongst the ethnic Chinese community.
The main ingredient raw fish (Yu), uses in this salad, 年年有余 (Nian Nian You Yu), symbolizing 'Abundance and excess through out the year'.
Yusheng remain a must have to celebrate Chinese New Year with my family in America. Besides keeping the Chinese tradition within the western community, we really enjoy this salad!
My home created Yusheng, I call it the 'American Yusheng', are base on fresh ingredients that are available to replace some of the original ingredients. Example; grape fruit is use in replace of pomelo and strawberry replace the original version of white radish with added red coloring.
The ingredients in this Yusheng I made include strawberry (starting from the front center clockwise on the picture), grapefruit, jicama and apricot on top, kiwi, cantaloupe, cucumber, mango, and carrot.
All shredded vegetables and fruits were cut by hand in order to preserve the juice. In the center of the platter is salmon sashimi surrounded with shredded cabbage, garnish with chopped cilantro, spring onion and fried shallot.
It took me 8 hours the day before to cut them all. That's a lot of work to prepare such a big platter of salad but is all worth it!
Before having all our guest to toss this platter of Yusheng salad with chopsticks, home-made plum sauce dressings was drizzle over, toasted ground peanut was dusted onto the salad symbolizing "A household filled with gold and silver", 金银满屋 (Jin Yin Man Wu).
Everyone get to toss the salad together with chopstick at the same time shouting "LOU HEI, LOU HEI!!"  "撈起, 撈起!". It is believed that the height of the toss reflects the height of growth in fortunes, thus we tossed enthusiastically!
What a fun evening we had!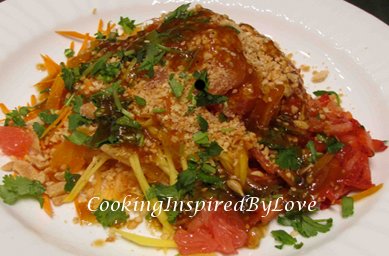 Here is my plate of Yusheng salad, with more ground peanut on it! It was very delicious!
To all Asian friends and everyone in the world, may this Dragon Year brings you abundance of prosperity, health and happiness!
Share this with your friends!