Sometimes we do not know how much certain things, certain event or a person would impact us or mean to us, until it is over or when that person is not around. We also might not realize how powerful certain aroma can bring us back to a certain time in our life.
After sending my mother to the airport, our house feels extremely quite. Looking at the last piece of left over low carb butter cake I made for my mother couple of days ago when she was still here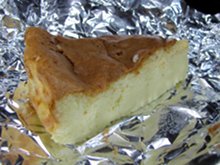 visiting, I'm feeling a sense of emptiness.
During her one month visit, she had been enjoying the food that I cooked for her.
Recalling the time when she requested me to bake a butter cake for her, I was kind of resisting in doing so. Any flour cake is so not my kind of food now in our low carb eating lifestyle because it contains simple flour. But since my mother was craving for it and in order to not go against my low carb eating style, I bake the cake replacing only half of the normal baking flour to almond flour and whey protein powder.
That was the first time for me to bake a flour cake not to say trying to replace the regular flour with something else. I warned my mother that it might not turn out to be good.
After 40 mins of baking, a familiar buttery aroma of the cake fumes the house. The wonderful aroma brought my memory back to the familiar bakery shop in Singapore. I missed the little shop in the neighborhood especially the local bakery shop that I used to visit many years ago.
Butter cake was eaten as a breakfast or snack during my growing up years in Singapore. I used to love the store bought butter cake not knowing how it might affect my blood sugar. I quit eating almost all flour cake more than 3 years ago after enjoying the healthier low carb eating lifestyle.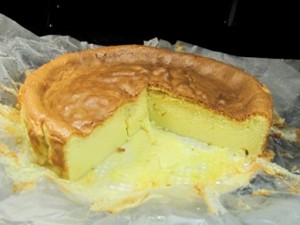 When the cake was finally done. I laid it on the counter to let it cool. I could tell that my mother was very eager to take a bite on the cake. I told her that the cake is for dessert after dinner. She got to have her dinner first before she can enjoy the cake. (Isn't that sounds familiar? That was what she told me when I was a child. 😀 )
When I was a child, her intention was to have me finished my bowl of rice before giving me a slice of the cake. And now my intention was to have her eat some protein and fat before she eats the cake.  😀
The lower carb butter cake turns out to be really good. Dense, moist and buttery. It was 10.7g carb per slice (though is still not low enough for my expectation). My mother loves it! I packed four separate big slices for her to take with on her long trip back to Singapore. I belief while she enjoy her slices of butter cake during her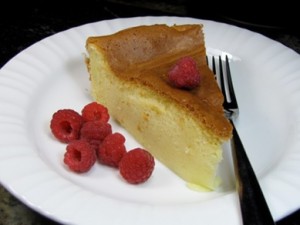 journey, she will be missing us as much as we missed her.
Most of the times we are just so caught up with the fast moving pace in life. Little things happen during the days do not mean much to us until when we really stop and feel about what happened.
When my mother requested me to bake a butter cake, I was thinking there are so much food and why she still wants me to bake a cake. And I have not bake a flour cake before. I'm not sure it is going to turn out good. The voice kept going in my mind….
Now I am thankful that I took the step forward to bake the cake upon my mother request.
Because of my mother, now enjoy baking a low carb butter cake at the same time recalling those growing up days in Singapore. Would you think that this is another impact my mother has for me in my life? It sure is.
And you can also bet that every time I eat low carb butter cake, I would miss my mother.
~ The article above was written on 12th Aug 2012
The recipe below was updated on the 24th Feb 2015.
Over the couple of years, each trial of baking it I try to adjust the ingredients a little more to achieve lower carb and maintain the original flavor. Many times it didn't work. It was either too dense or too wet…
I'm quite happy with the result this time.  I totally replace the regular flour with almond flour and hazelnut flour, the consistency remain throughout the whole cake. And it tastes good. The only thing I wonder is the layer of color. I think the hazelnut flour might be lighter than almond flour that's why the color. Also it has a little of nutty texture but not too much. I think is as good as it gets to satisfy a butter cake craving.
I am constantly tweaking this recipe each time I bake again. Especially I have not figure out how to prevent the cake to sink after baking was done. Keep testing and tweaking on your own, and please share with me how you can make it better than this.

The traditional butter cake
Prep time:
Cook time:
Total time:
Ingredients
½ cup hazelnut flour, sifted
½ cups almond flour
⅓ cup unflavored whey protein powder
1 teaspoon baking powder
1 pinch baking soda
9 large eggs, separate yolk and white
¾ cup Xylitol sweetener
½ teaspoon cream of tartar
1 ½ cup (3 sticks) of chilled butter
¼ cup milk
Preparation
Preheat oven to 300F (150C). Prepare a 10" spring-form baking pan, grease side and bottom with butter.
Using a small size bowl, mix hazelnut flour, almond flour, whey protein powder, baking powder and baking soda together. Set aside.
Using a medium size bowl, with a electric hand held mixer, whisk egg whites with ⅓ portion of Xylitol and cream of tartar until soft peaks or stiff peaks if you like a softer cake. Set aside.
Using a big bowl, with a electric hand held mixer, beat butter and remaining xylitol until light and fluffy, scraping down the sides a few times, about 10 minutes.
Add the egg yolk one at a time while beating. Add milk and continue to mix well. Making sure xylitol has dissolved before going to next step.
Using a spatula fold in the mixed flour in 3 batches. Gently fold the stiff egg whites, a big scoop at a time, into the butter mixture. Gently fold them together but do not over do it. If the egg white at the bottom of the bowl needs more beating to stiffen up, wash the mixer whisk before using it. And fold in all the egg whites.
Pour ready mixed batter into prepared baking pan. Bake for about 1 hour 15 minutes or until a wooden skewer plunged into middle of cake comes out clean. Remove butter cake from the oven and run a knife around the rim to separate the cake from the rim. The butter cake will rise when baking and sank after cooling.
Each serving contains 6.6g total carb, 2g net carb, 10.2g protein and 38.3g fat.
Share this with your friends!