LOW CARB HIGH FAT FOOD LIST
The golden rule to remember when doing shopping for food is:
"What you don't bring home, you don't eat."
Planning the weekly menu or at least 3 days ahead help to organise the groceries shopping list. It will help you to focus on what to buy when you are in the groceries store and reduces impulse buying. When you are focus on what to buy during shopping, you save time and avoid the 'browsing' habit which usually end up putting items into your shopping cart before you know it.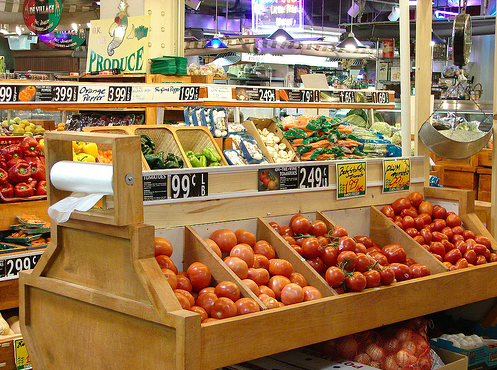 Have you realized that most groceries store would welcome their customers with fresh produce as you enter the store? If you haven't, pay attention each time you go to a different grocery store. Have you come across any grocery store that places canned food, packaged food, or frozen food right at the entrance instead of the vibrant color of fresh greens and fruits? I haven't. Fresh vegetables and fruits are most commonly found right at the entrance of the store follow by fresh meat or seafood leading along the outside perimeter of most groceries store. Shop mainly around the perimeter. To enjoy food at it's best state is to eat fresh. Buy only fresh cut meat or seafood with no marinade. Several times I ask the butcher at different store what is in the marinade and when I read the ingredients in the marinade sauce they usually contains corn syrup or some kind of sugar in the second or third ingredients on the list. In my low carb lifestyle, I focus on creating delicious meals using fresh produce with fresh herbs and spices in their most natural state I can find. Eating good food every meal is the key to an enjoyable and sustainable healthy low carb lifestyle, for life.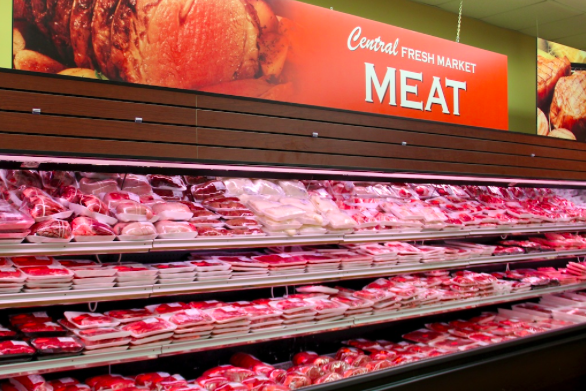 Low carb eating choices
Many low carb plans including Atkins. Paleo or Dukan Diet plans etc. mainly focus on a similar concept. Which is to eat real food and eliminate process food. Each plan have its own suggestion for entering phase and maintenance phase to start and to follow. And there are no doubts many proven example of people benefiting from following the plans. When I started eating low carb years ago, I did not research on any of the plans. I saw the example from my husband what he eat and staying healthy. I just follow the same. I eliminate all starch and sugar in my meals everyday and focus on eating all the delicious meat and seafood that I like. It didn't take too long before I realised that my pants were getting looser. I am not deprived of food and have no cravings for carb because I eat very well. It was than that I started reading and understanding the science behind metabolic syndrome. It makes total sense. When I finally understood how our body metabolism respond to choice of food intake, it raises my awareness in choosing the food to eat. In fact, there are more delicious food selections to eat for a low carb eating lifestyle than you might imagine. If only you are willing to explore beyond what you are used to and let your creative mind work. You could be pleasantly surprise there are plenty of good food waiting for you to savour.
Food list for creative eating 
Below are the lists of the food to buy in a grocery store.  Just about almost every fresh meat, poultry, seafood and good fat has 0g of carbs and packed with protein. Eat according to your ideal body weight. The carbohydrate listed here are the 'less bad' complex carb. Aim to eat below 50g of carb for maintenance and below 20g of carb if you are diabetic. The fat choices listed here you can eat till satiety.
This ebook could help you to kick start a successful Low Carb High Fat lifestyle
 And calculate your personal macronutrients HERE
Click here for Chinese translation for this page  点击这里获取中文翻译
Carbohydrate 
Vegetable:
Alfalfa Sprouts
Asparagus
Bamboo shoots
Bean sprouts
Beet greens
Bok Choy
Broccoli
Brussels sprouts
Cabbage
Cauliflower
Celery
Collard greens
Cucumber
Eggplant
Endive
Green bean
Kale
Lettuce
Mushrooms
Mustard greens
Parsley
Pickles
Sauerkraut
Seaweed
Spaghetti squash
Spinach
Spring onion / scallion
Squash
Sweet pea
Sweet Peppers
Tofu
Tomato
Watercress
Zucchini
Root vegetable:
Carrot
Garlic
Ginger
Jicama
Radish
Onions
Note: Root vegetable contain higher carb compare to leafy vegetable. Have it occasionally.
Fruit :
Avocado
Blackberry
Blueberry
Lemon
Limes
Olive
Raspberry
Strawberry
Note: Fruit contain fructose. Eat a small amount each day.
Flour:
Almond flour
Coconut flour
Hazelnut flour
Whey protein powder
Note: Gluten free flour is not low carb. I use this flour for baking low carb dessert and making low carb pancakes and waffles.
Sweetener:
Stevia
Erythritol
Xylitol
Protein:
(and the good fat..)
Meat:
Natural fed pork
Natural cured bacon
Natural raised grass fed beef or veal
Natural raised lamb
Wild game meat – buffalo, deer, elk or venison etc.
Poultry:
Cornish game hen
Goose
Organic natural raised chicken
Organic natural raised turkey
Organic natural raised duck
Quail
Wild pheasant
Fish and shellfish:
Alaskan wild caught salmon
Black cod
Chilean seabags
Clams
Crab
Haddock
Halibut
Herring
John Dory
Lobster
Mackerel
Monkfish
Mussels
Octopus
Orange roughy
Oyster
Pacific cod
Prawn/Shrimp
Pomfret
Rockfish
Sardine
Scallop
Swordfish
Squid
Tilapia
Trout
Tuna
Eggs :
Fresh whole free-range chicken egg
Fresh whole free-range duck egg
Fresh whole quail eggs
Fat:
(and some protein..)
Dairy:
Blue Cheese
Brie
Cheddar Cheese
Cottage cheese
Camembert Cheese
Cream Cheese
Feta Cheese
Greek yogurt
Goat cheese
Gouda cheese
Heavy cream
Mozzarella Cheese
Muenster Cheese
Parmesan Cheese
Provolone Cheese
Real butter
Swiss Cheese
Sour cream
Oil:
Almond oil
Avocado oil
Bacon grease
Coconut oil
Duck fat
Extra virgin olive oil
Ghee
Lard
Flavour enhancer, spices and others
Vinegar:
Balsamic vinegar
Apple cider vinegar
Asian dark vinegar
Note: Use these vinegar for making salad dressings or marinades.
Sauces/dressings:
Bragg's liquid aminos
Chili sauce (contain no sugar and starch/thickening agent)
Coconut amino
Homemade Blue cheese dressing
Homemade mayonnaise
Mustard
Sour cream
Soy sauce (use sparingly)
Tamari
Tartar sauce*
French dressing*
Italian dressing*
Thousand island dressing*
Note: *Most store bought dressings contain certain kind of carb. Read the ingredient list and the carb amount. I make my salad dressings and mayonnaise with fresh ingredients.
Salt:
Himalayan pink salt
Real sea salt
Truffle salt
Cooking wine or liquor:
Chinese cooking wine
Dry red wine
Dry white wine
Sherry
Bourbon
My choice: A dash of wine during cooking enhances the flavor of the food.
Seasoning/Rubs:
Natural mushroom seasoning (no MSG)
Spice and herb rub for meat and seafood (make sure no sugar and any kind of sweetener added)
Herbs and Spices – fresh or dried:
All spice
Anise
Basil
Black pepper
Cajun without sugar and salt added
Caraway
Cardamom
Chili powder
Chives
Cilantro
Cinnamon
Cloves
Cumin
Chicken curry powder without salt
Dill
Five-spice
Galangal
Garlic
Ginger
Green pepper
Herb de Provence
Marjoram
Meat curry powder without salt
Mint
Oregano
Paprika
Parsley
Red onion
Rosemary
Seafood curry powder without salt
Saffron
Sage
Savory
Shallot
Szechuan pepper
Tandoori rub without sugar
Tellicherry pepper
Thyme
White onion
Yellow onion
Other condiments:
Black sesame seed
Dried fermented black bean
Dried whole red chili
Goji berry (contain carbs, use it sparingly)
Preserved ginger slices (unsweetened)
Tamarind
Wasabi paste
White sesame seed
Nut – raw, salted or unsalted or roasted and non-sweeten:
Almond
Macadamia
Marcona almond
Pecan
Pine nut
Walnut
My choice: These are must-have nuts in my pantry. I use them for snack, or add to cooking and baking.
Others items:
Home-made or package chicken broth
90% dark chocolate
100% cocoa powder (unsweetened)
Note: I make fresh chicken broth for making soup. The ready-made package chicken stock/broth are use in glazing the pan, adding moisture to food or making gravy during cooking.
Beverage:
Breakfast tea
Chamomile tea
Decaffeinated coffee
Green tea
Green tea powder (Matcha)
Oolong tea
Red wine
Rooibos tea
Rose bud tea
Sparkling water
White tea
Water with fresh lemon wedges