I was asked what to prepare for a Superbowl party that everyone would like and is low carb.  My recommendation is making low-carb pizza. Friends who know our diet have been surprised when I pull out the various pizzas from the oven.
'You made pizza?' They would ask.
'Yes, low-carb pizza is tastier than the regular pizza.' I would reply.
As we sit around for hours watching the men running around the football field burning calories, we can choose not to loads on pounds with carbs and feeling guilty.  Better than dips and chips, homemade cauliflower-crust pizza is the way to go.
This cauliflower crust recipes was created by Jamie Saal Van Eaton of YourLighterSide.com. Cauliflower and cheese are the main ingredients in this pizza crust. When baked right, it is tastier and more nutritious than the regular flour dough pizza. You can top with any ingredients base on your preference and creativity.  My family's favorite is this pizza with sausage and pancetta with lots of cheese.
Sausage pancetta cauliflower crust pizza

Eating Low-carb pizza on Superbowl Sunday?
Prep time:
Cook time:
Total time:
Ingredients
Ingredients for pizza crust;
3 cups raw cauliflower, riced*
3 cups shredded mozzarella cheese
3 eggs beaten
1 tsp fennel powder
1½ teaspoons oregano
1 teaspoon fresh parsley chopped
Pinch of garlic powder
Pinch of salt and pepper
2 tablespoons melted butter
Ingredients for pizza topping:
1 cup chopped Italian pancetta/bacon
1 tablespoon reserved pancetta grease
2 cups ground sausage meat
½ cup red onion, chopped
1 tablespoon fresh thyme
1 tablespoon fresh rosemary, chopped
½ cup fresh parsley, chopped
1 medium fresh tomato, cut into bite size pieces
Pinch of salt and ground pepper
1 cup fresh tomato puree from 2 tomatoes (or 1 cup canned unsalted and unsweetened tomato puree)
½ cup cheddar cheese
½ cup Mozzarella cheese
¼ cup Parmesan cheese + more for table serving
Preparation
Preheat oven to 400F. Place the raw cauliflower rice into a big bowl, add cheese, eggs, fennel, oregano, parsley, garlic powder, salt and pepper and knead them together with your fingers. Wear a food gloves if you like.
Brush a 12" dia. round pizza pan with melted butter, form cauliflower mixture onto pan and spread evenly to smooth out.
Bake crust in oven for 30-40 minutes or until crust is lightly brown. Crust holds together when moisture is mainly dried out.
Prepare pizza topping: pan-fry the chopped Italian pancetta until brown and crispy. Strain crispy pancetta onto paper towel and set aside. Leaving 1 tablespoon of pancetta grease in the pan.
Cook sausage in the same pan using the pancetta grease. Use a spatula to break apart sausage into bite size pieces while cooking in pan. When sausage is almost cooked, add onion, thyme, rosemary, parsley and tomatoes. Add salt and pepper to taste.
When crust is ready, remove from oven. Spread tomato puree/paste evenly onto crust. Spread sausage mixture evenly on top and then sprinkle crispy pancetta, cheddar, Mozzarella cheese and Parmesan cheese on top.
Set oven to broil and place pizza in oven for 5 minutes or until cheese melted. Remove from oven and serve immediately.
Each slice contains 9.5g net carbs. 52g protein and 70g fat.
Note*: To prepare raw and riced cauliflower; use a knife to chop a small head of cauliflower into small florets. Pulse and chop separate small batches of cauliflower florets through a food processor until it looks like coarse grain. Do not over do it or it will become puree.
Enjoy this delicious and nutritious cauliflower crust pizza!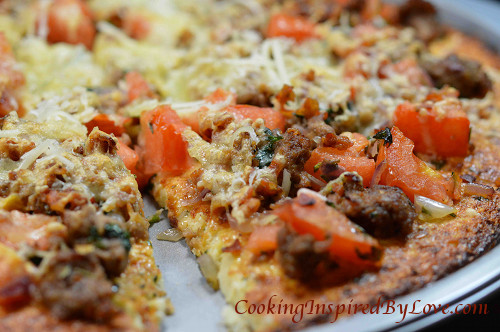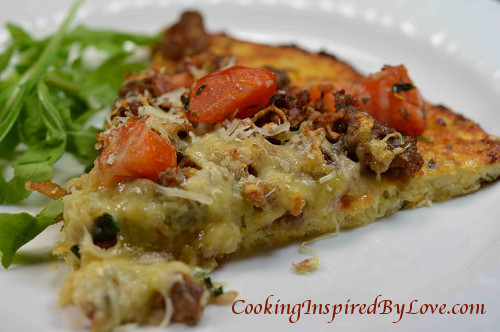 Share this with your friends!